Twas The Night Before Christmas
Twas the night before Christmas and all through the house
The puppies were squeaking an old rubber mouse
The wreath, which had hung merrily on the door
Is scattered in Pieces all over the floor.
The stockings that hung in a neat little row
Now boast a hole in each one of their toes
The tree was subjected to bright eyed whims
And now although still splendid is missing some limbs
I catch them and hold them, "Be Good", I insist
With a lick they run off to see what they have missed
And now as I watch them a thought comes to me
That theirs is the spirit that Christmas should be
Should children and puppies again show us the way
And teach us the joys that should be Christmas day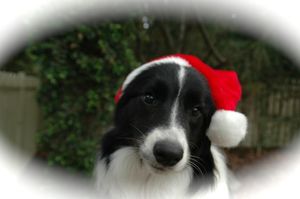 INGENUE Star Quest  -  "Holly" Sopher
"Fanta" wins Best Baby Puppy in Show!
September 29th, 30th & October 1st, 2012
Greater Western All Breeds Obedience & Agility Club Inc
INGENUE had a great weekend away, with good friends & excellent results!

Our 3 girls, "Fanta", "Abbey", & "Roxy", were the stars this weekend with great achievments over the three days.

INGENUE Fantasia "Fanta" took out 3 Baby of Breeds & a Baby in Group!

TERRABELLA Come Together "Abbey" was awarded Challenge Bitch & Best of Breed, a Reserve Challenge & Best Intermediate in Group

Aust Ch INGENUE Chicago Girl "Roxy" made her first appearance in Neuter one not to be forgotten, collecting 19 points to her Neuter title,    

Best Neuter in Group all 3 days & went on to recieve 2 Best Neuter in Show!!

Go Girls!!